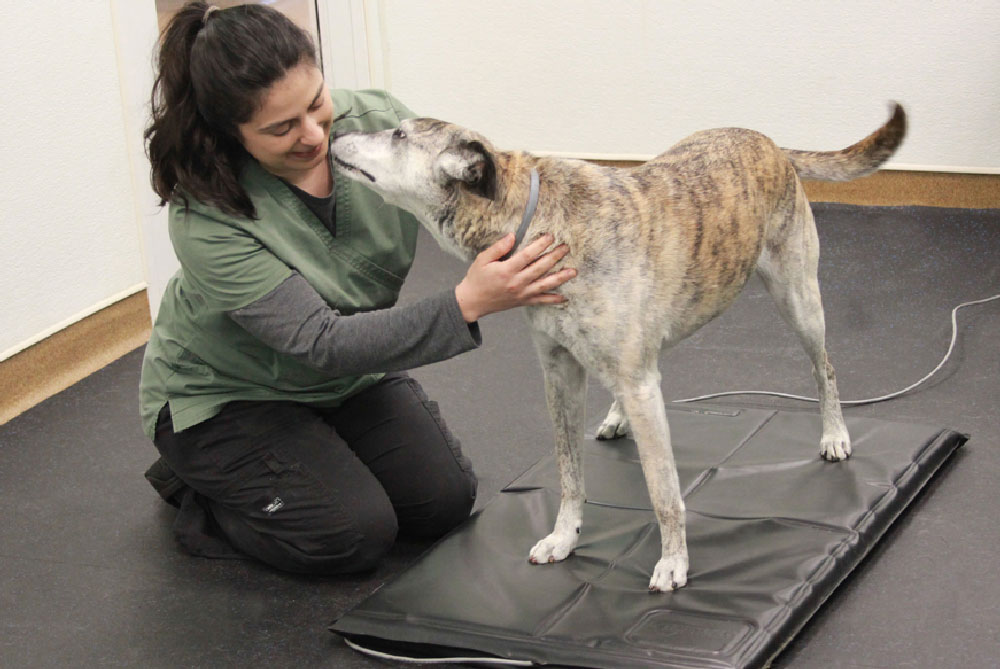 The Companion Stance Analyzer is a simple tool that helps us to identify pain in your pet, even before they start to show obvious signs like limping. By measuring the amount of weight they are placing on each leg, the Stance Analyzer allows us to more easily pinpoint where the pain in originating from, and allows us to begin a guided course of treatment immediately - before the problem and pain get worse.
What is a Stance Analyzer?
The Companion Stance Analyzer is a diagnostic tool that allows clinicians to detect lameness at an earlier stage by reporting abnormalities in weight bearing. The same data may also be used to monitor treatment progress, as weight bearing percentages normalize over time.
How does it work? 
The Stance Analyzer measures both a patient's weight and the weight-bearing percentage by limb. After the patient is placed on the Stance Analyzer mat, with one paw in each quadrant, the operator then uses a remote control to capture a series of weight-bearing "snapshots", which are then fed into a computer for analysis. The operator may then print a visual report of the findings to objectively demonstrate if the patient is exhibiting lameness in a particular limb.
What cases is it useful for?
Whether your patient is coming in for a wellness exam, a lameness evaluation, or a re-check, the Stance Analyzer can provide diagnostic insight to almost every visit.